---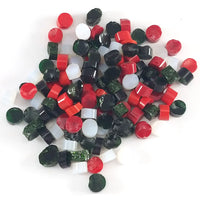 These dots are fantastic design elements for any fusing project requiring tiny circles or dots. Made by cutting 6mm Oceanside glass cane into slices about 2-3mm thick.

Fuse-Flat Slices: These slices are cut and selected especially for artists who use a kiln to form their glass.

Made from Oceanside glass and compatible with COE 96 glasses. One full ounce. Each 1 oz bag contains between 150 and 200 slices.

Looking for fused glass techniques? Click here for tips on fusing Glacial Art Glass products to various temperatures!
Looking for inspiration for your next project? Click below for our glass fusing ornament tutorial!