---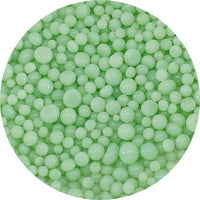 Our COE 90 Frit Balls are a great design element for any fusing project requiring tiny circles or dots. Also use them on mosaics!
Each Frit Ball is hand made by fusing COE 90 Bullseye glass frit into pieces about 3 to 6 mm in diameter. One half ounce. Each half oz bag contains between 100 to 130 Frit Balls, depending on the diameter.

Looking for fused glass techniques? Click here for tips on fusing Glacial Art Glass products to various temperatures!
Looking for inspiration for your next project? Click here for our glass fusing ornament tutorial!