---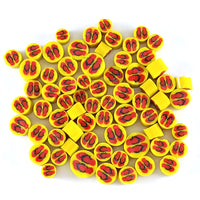 Our murrine are made with care to add an eye-catching touch of detail to any fusing project.
Fuse-Flat Slices: These slices are cut and selected especially for artists who use a kiln to form their glass.
Made from Bullseye glass and compatible with COE 90 glasses. One half ounce. Murrine diameter varies between 3mm and 10mm. One half ounce is between 40 and 90 slices, depending on the diameter of the murrini. There will generally be a lot of variability in the diameter of slices.
Proudly handmade in Portland, Oregon.
Want to learn more about fusing murrine? Click here for our Murrine and Millefiori glass fusing tip sheet!
Looking for inspiration for your next project? Click here for our glass fusing ornament tutorial!